FLAME RETARDANT REFLECTIVE TAPE | EN 469
Showing all 11 results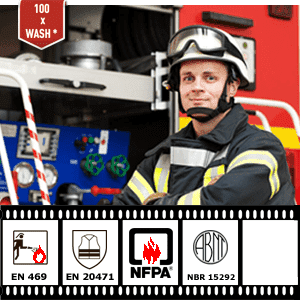 XM-6010 FR Reflective tape
Flame Resistant - Yellow-Silver Reflective tape – 100% Cotton
Sew-on



Glass beads: Ra>450



100% Cotton FR



Roll size: 5cm x 100m



100x wash at 60°C (140°F)



30x wash at 92°C (198°F)



EU certification: EN 20471, EN 469



USA certification: NFPA 2112, 1971



Brazil certification: NBR 15292



Request a quote
Quick View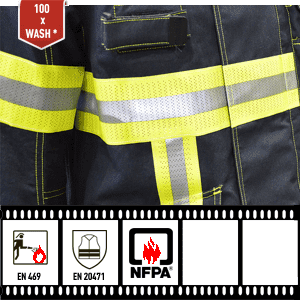 XM-6010P FR Reflective tape (Perforated)
Flame Resistant - Yellow-Silver Reflective tape – 100% Cotton
Sew-on



Glass beads: Ra>350



100% Cotton FR



Roll size: 5cm x 100m



100x wash at 60°C (140°F)



EU certification: EN 20471, EN 469



USA certification: NFPA 2112



Request a quote
Quick View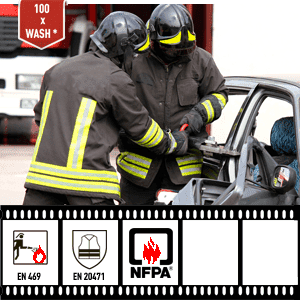 XM-6010W FR Reflective tape
Flame Resistant - Yellow-Silver Reflective tape – 100% Cotton
Sew-on



Glass beads: Ra>450



100% Cotton FR



Roll size: 5cm x 100m



100x wash at 60°C (140°F)



30x wash at 92°C (198°F)



EU certification: EN 20471*, EN 469*



USA certification: NFPA 2112*



Request a quote
Quick View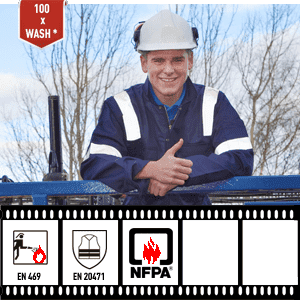 XM-6011 FR Reflective tape
Flame Resistant - Silver Reflective tape – 100% Cotton
Sew-on



Glass beads: Ra>450



100% Cotton FR



Roll size: 5cm x 100m



100x wash at 60°C (140°F)



30x wash at 92°C (198°F)



EU certification: EN 20471, EN 469



USA certification: NFPA 2112



Request a quote
Quick View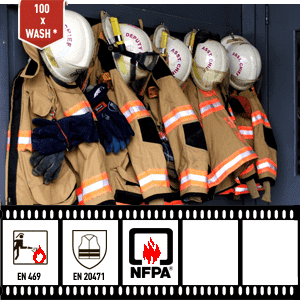 XM-6012 FR Reflective tape
Flame Resistant - Orange-Silver Reflective tape – 100% Cotton
ew-on



Glass beads: Ra>450



100% Cotton FR



Roll size: 5cm x 100m



100x wash at 60°C (140°F)



30x wash at 92°C (198°F)



EU certification: EN 20471*, EN 469*



USA certification: NFPA 2112



Request a quote
Quick View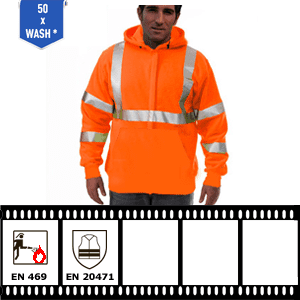 XM-6015 FR HT Reflective tape
Flame Resistant - Heat Transfer Silver Reflective Tape - 100% Polyester
Heat transfer



Glass beads: Ra> 500



100% Polyester FR



Roll size: 5cm x 100m



50x wash at 60°C (140°F)



EU certification: EN 20471, EN 469



Request a quote
Quick View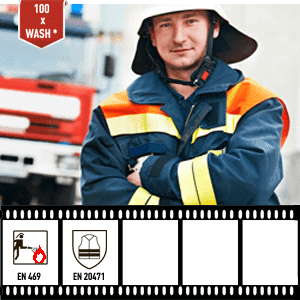 XM-7104 FR Reflective tape
Flame Resistant - Yellow / Orange Reflective tape – 100% Cotton
Sew-on



Glass beads: Ra> 70-85



100% Cotton FR



Roll size: 5cm x 100m



100x wash at 60°C (140°F)



EU certification: EN 20471, EN 469



Request a quote
Quick View
XM SliverLine is a brand of reflective tapes created by professionals with long standing experience in Flame Retardant technology as well in Retroreflective technology.
FR-reflective tapes have both high Flame Resistant protection and HiVis reflective properties. They made with FR-treated cotton backing or with Aramid backing. Both materials do not burn even after multiple wash cycles. The surface of our FR-tapes are covered with special epoxy resin which fixes reflective micro beads to the backing. For the best reflection we use only high-quality micro beads with Reflectivity ® more than 450-600 cd/lx*m2.
The main applications of our Flame Resistant reflective tapes are FR-clothing of fire fighters, emergency and electrical workers. Our FR reflective tapes are used to sew on to fire coats, turnout gear, bunker gear, coveralls, pants and to FR-clothing worn by those who may be exposed to excessive heat, flame or fire.
XMS's quality control of all manufacturing processes and following the industry standards gives you a confidence that our reflective tapes and trims will reliably work for many years safeguarding your workers. We are especially keen on following the requirements of American and European safety standards (NFPA 2112, EN 469, EN 20471/EN 471, ANSI 107, NFPA 1971, NBR 15252 etc.) Flame Retardant Reflective tapes meet NFPA standards for flame resistance requirements after 100 washes. fr-tapes are also certified to EN 469 and EN 20471 and provide maximum safety even after 50 or 100 washings.
You can buy XMS reflective tapes from our stock in China or in Europe. Also, we can make your custom design reflective tape per order.
To make your request just fill in our form, we will contact you ASAP and send you our XMS catalogue with samples of our reflective tapes.